Multidimensional 5D facelift, innovative solution, the latest technology
Precise operation at various depths in the range of 1.5mm - 13mm
Innovative solutions for non-invasive and painless treatments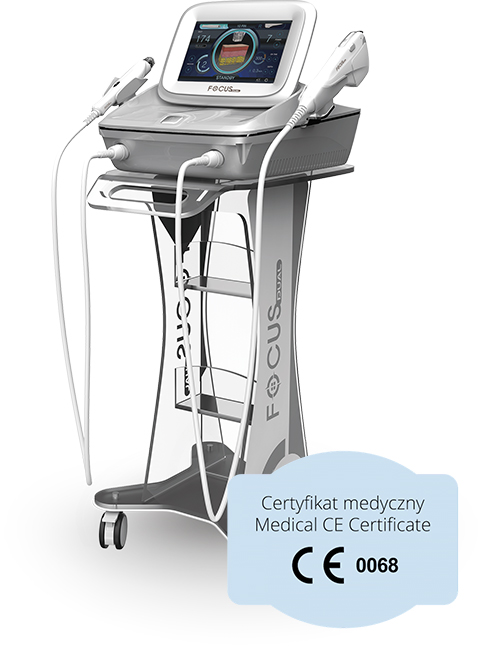 RF - fractional microneedle
Vacuum system - stable and precise piercing, 25 needles, non-insulated along the entire length, depths ranging from 0.5mm - 3.5mm
The vacuum function reduces pain sensations and the occurrence of side effects.
Spectacular effects of skin regeneration and rejuvenation
Tailored to the needs of the most demanding clinics and aesthetic medicine offices
Combinations of the latest generation HIFU and micro-needle fractional RF with a vacuum system to perform a multi-dimensional 5D lifting using two types of energy during one treatment on five levels of the skin.
Complementary technologies make it possible to perform an extremely precise rejuvenating treatment with detailed refinement of both the depth, hard-to-reach areas and sensitive areas (around the eyes, mouth) based on proprietary treatment procedures. Treatments can be performed all year round.
Focus Dual provides spectacular effects of skin regeneration and rejuvenation, even after the first treatment.
Discover the Focus Dual offer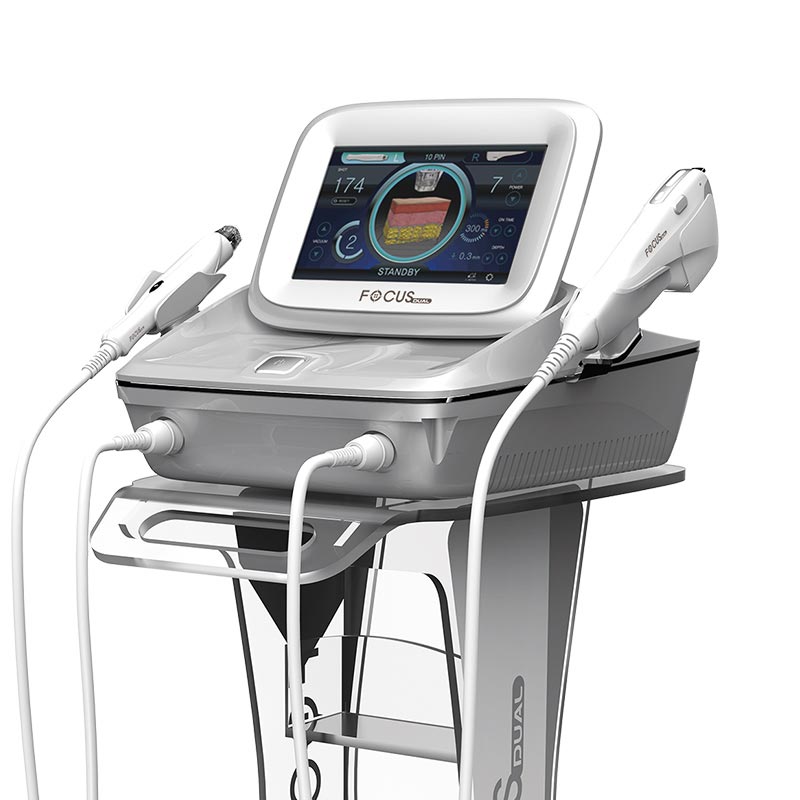 Thanks to the possibility of using the synergy of two technologies, it is possible to achieve spectacular effects of therapy
Extremely precise, safe and the fastest, it significantly exceeds the effectiveness and comfort of any existing devices and methods in the area of the face, scalp, neck, cleavage, hands or abdomen, buttocks (cellulite, adipose tissue). After performing several hundred treatments using Vital Injector 2 in the last months, everyone wants to use injection therapies only with the Vital Injector 2 device. There is more and more people willing to undergo Vital Injector 2 treatments.
HIFU – a focused beam of ultrasonic waves enables precise operation at various tissue depths in the range of 1.5mm – 13mm with the use of interchangeable applicators.
It gives the possibility of providing energy to the fundamental layers of tissues and the possibility of lifting. Thanks to innovative solutions, non-invasive treatments are safe and, most importantly, painless, and the patient returns to daily activities immediately after the procedure.
RF – fractional microneedle with a vacuum system that guarantees stable and precise insertion of disposable cartridges with 25 needles not insulated along the entire length thanks to precise depth control in the range from 0.5mm – 3.5mm.
Micro-needle electrodes deliver bi-polar energy directly to the dermis without damaging the epidermis. The stimulation and repair mechanisms initiated by the emitted energy and micro-punctures contribute to the thickening of the skin, improvement of its tension and the alignment of its texture (atrophic scars, stretch marks).
The vacuum function additionally reduces pain sensations and the occurrence of side effects. LED combination therapy accelerates the healing process of the skin.
Combination of two micro-needle + HIFU fractional RF technologies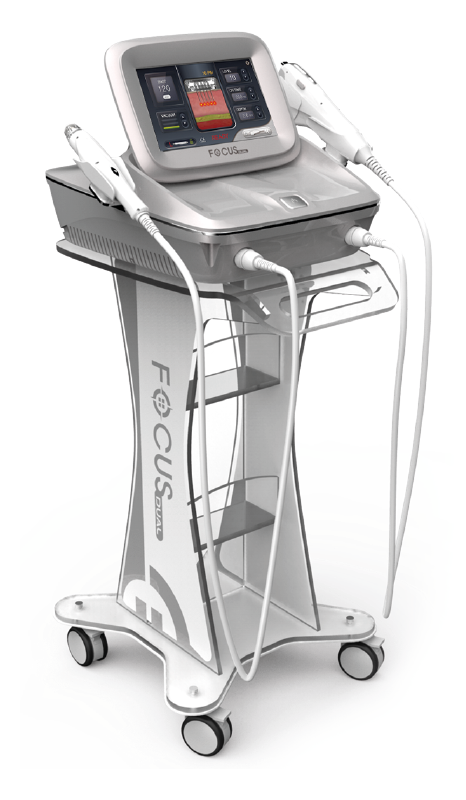 – loss of firmness and elasticity of the skin on the face
– wrinkles
– nasolabial folds
– drooping cheeks
– drooping mouth corners
– double chin
– neck skin laxity
– loss of firmness
– flaccid skin on the body (arms, abdomen, buttocks, area above the knees, inner thighs)
– general improvement of the skin condition
– loss of skin firmness
(on the face, neck, décolletage, hands, arms, area above the knees)
– loss of skin tension and elasticity
– wrinkles, nasolabial folds
– signs of photoaging
– acne scars
– stretch marks
– enlarged pores
– excessive production of sebum
– anti-aging prophylaxis
– skin regeneration and reconstruction
Technical specification of Focus Dual
Radiofrequency & HIFU
Micro-puncturing
10 pin / 25 pin / SM 4-4.5 / DD 7-3.0 / SD 7-1.5 / SD 7-1.5N / SC 4-13
Dimensions (W x D x H) mm