A REVOLUTION IN MESOTHERAPY
No pain, no lumps, no bruises
The vacuum system reduces the feeling of pain and reduces the appearance of bruises
The size of the needles 31G guarantees the administration of very small doses of the preparation
Both the device and the multi-needles have CE Medical Certificate
A backflow block prevents the backflow of fluids
The replaceable disposable filter ensures 100% hygiene of the treatment and safety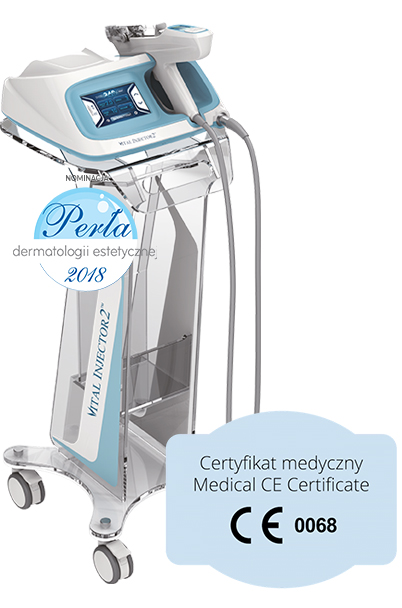 In an innovative multi-needle which protects against possible infections
It maintains the viscoelasticity of the preparation and proper deposition
Painless and quick treatment, precise placement of the preparation, reduction of side effects
High quality and price-effectiveness ratio, incl. thanks to the elimination of preparation losses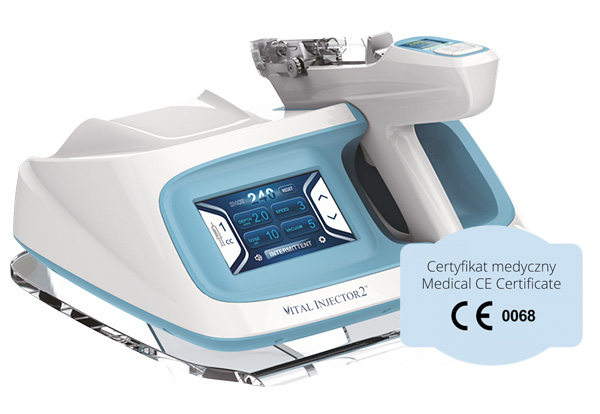 Discover the offer of the VITAL INJECTOR 2 device
Performance and innovative accuracy
VITAL INJECTOR 2 is the most desirable device by Professionals for use in various therapies
Extremely precise, safe and the fastest, it significantly exceeds the effectiveness and comfort of any existing devices and methods for the revitalization of the face, scalp, neck, cleavage, hands, abdomen, buttocks (cellulite, adipose tissue). After performing several thousand treatments using VITAL INJECTOR 2 in the last months, everyone wants to use injection therapies only with the VITAL INJECTOR 2 device. There are more and more people willing to undergo VITAL INJECTOR 2 treatments.
VITAL INJECTOR 2 allows the application of preparations with high viscoelasticity in small doses, cross-linked hyaluronic acid, platelet-rich plasma, etc. It is the only technologically advanced device on the market for multi-needle vacuum administration of preparations. The replaceable disposable filter ensures 100% safety and hygiene thanks to the latest technology. Safe and reliable treatments. The safety cover in the innovative multi-needle provides effective protection against infections. Controlled injection depth, adjustable from 0mm to 5mm (0.2mm interval), enables precise injections into the subcutaneous tissue and the dermis, where the most elastin and collagen are.
The multi-needle vacuum system ensures the injection at equal distances, each time at the same depth specified by us, eliminating the loss of the preparation. Backflow blocker patented by Eunsung Global Corp. only for the VITAL INJECTOR 2 device, it prevents the backflow of fluids during injection. The SPEED function prevents changes in the dosage and loss of viscoelasticity of the preparation. The vacuum system lifts the skin, smoothes its surface, pulls it away from blood vessels and nerves, ensuring no pain or bruising.
Effective skin revitalization
Most professionals recommend a skin care method with the VITAL INJECTOR 2 device
In the case of using, for example, 1 ml of S-HA and performing the injection into the dermis densely, evenly in the face (1,000 punctures in doses of 0.001 ml – available only by VITAL INJECTOR 2), histological examinations 2 weeks after the injection showed that the introduced S-Ha particles they look relatively large in relation to the collagen fibers. The substance did not spread between the collagen fibers, but displaced the fibers. There was no inflammation of the cells around the S-HA molecules. After 2 weeks, several new collagen fibers appeared around the S-HA microdroplets, and after 12 months, much more of them was found. A dose of 0.001ml was accurately injected into the dermis with the Vital Injector 2 and this amount is recommended to avoid clump problems. Based on the biopsy, it was found that the dose of S-HA remains in the skin for about 12 months.
How VITAL INJECTOR 2 works
Multi-needle Vacuum Mesotherapy
The effect of the mesotherapy treatment
VITAL INJECTOR 2 mesotherapy
Technical specification VITAL INJECTOR 2
Application of the device
Mesotherapy
Micro-puncture
31G (0.26mm), 5Pin and 9Pin (multi-needle type)
0.2mm - 5mm (0.2mm increments)
Electric voltage, frequency
injector 293x49x168
body 333x298x130